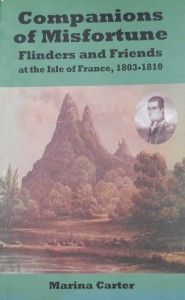 Companions of Misfortune. Flinders and Friends at the Isle of France, 1803-1810
by Doctor Marina Carter.  170 Pages.  £4.99 plus shipping
Captain Matthew Flinders of the Royal Navy was one of the greatest cartographers of his time, and is credited with giving the continent and country of Australia its name.  Yet it is not generally appreciated that he almost never completed his epic early nineteenth century voyage from Britain to Australia and back. 
Flinders was forced to endure years of  exile before being able to return home and publish his most important works. In 1803, while returning to Britain after the journey of discovery to the continent that he would later name, Flinders was imprisoned on the the Isle of France.
This was the name by which the small but important island of Mauritius in the southwest Indian Ocean was then known, as at that time it was under control of Britain's deadly enemy, Napoleon Bonaparte's Revolutionary France.
This book tells the little known story of the 6 ½ year exile of Matthew Flinders on this small island, and of the men and women whom he befriended there.
These were the tumultuous times of worldwide Anglo-French rivalry, and the Indian Ocean was an important theatre of this conflict. Flinders was detained in a remote colony which was encircled by a blockading British naval squadron which  threatened the safety and the very subsistence of its French population. But as a prisoner of the French, Flinders found not only mutual tolerance and esteem but even deep and lasting friendship. His time in the isle of France is as stirring example of the nobility of spirit which can transcend cultural and national divides.
Companions of Misfortune, Flinders and Friends at the Isle of France, 1803-1810, is a book of 200 pages written by British historian Marina Carter. Companions of Misfortune analyses the occupations and distractions of the celebrated Captain Flinders while he lived in exile in the unique society that then existed at the Isle of France.  The book furnishes new information gleaned from letters written to him by the many people, both male and female, whom he met and befriended while in exile in Mauritius.  It is the only publication which has focused on this long period of Flinders' life in exile.  Companions of Misfortune is an essential book for anyone who wants a full understanding of the life of one of the great cartographers of the early 19th century, the man who named Australia, Captain Matthew Flinders.Pink Pigeon Press will ship your copy of Companions of Misfortune within 48 hours of receiving your payment. 
Your copy will be signed by the author, Doctor Marina Carter
Cost: £4.99 plus shipping and postage

UK Buyer? CLICK HERE:
Overseas? CLICK HERE: