Posted by
admin
on Jul 1, 2015 in
Bookshop
|
0 comments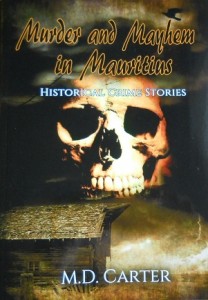 'Murder and Mayhem in Mauritius-
Paperback': £7.00 plus shipping.
PDF Ebook: £3.00
Murder and Mayhem in Mauritius presents a selection of historical crime stories ranging from the trial and execution of rebellious slaves, to tragedies arising from adultery and love triangles, and desperate acts of exploited workers.
Alongside the better known cases of career criminal Nanard and exiled Malagasy noble Ratsitatane, this collection introduces readers to the tale of the Mauritian attorney who ended up in a Nazi concentration camp, and to the Indian workers on a Chagos atoll who murdered their manager and hijacked a ship, among other sometimes moving, sometimes shocking true crimes.
From illicit affairs across ethnic divides, to dramatic cases of workers fighting oppression and crimes of passion, the social history of the island is laid bare through these accounts of criminal acts committed from the early days of the British colonial era up to the late 20th century.
'Murder and Mayhem in Mauritius-Paperback': £7.00 plus shipping.

Ship to an address inside   the UK?:
Ship to an address outside the UK?:

To order one PDF format Ebook of Murder and Mayhem in Mauritius  for £3.00,  CLICK HERE: