Posted by
admin
on Jul 30, 2012 in
Bookshop
|
0 comments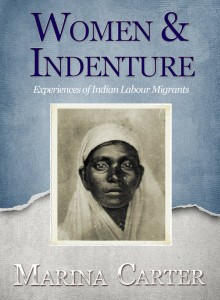 Women and Indenture (2012)
by Marina Carter
£6.49 Ebook  in PDF Format
Women and Indenture offers a unique insight into the experiences of Indian women migrants under the indenture system which operated from the 1840s until the early 20th century.

To order one PDF format Ebook of Women and Indenture  for £6.49,  CLICK HERE:
The largest recipient of Indian indentured migrants was Mauritius, where a  majority of the population are today descended from these labourers.
Guyana, Trinidad, Fiji and Natal were  also important recipients of indentured workers and the French sugar colonies also received some migrants under this scheme.
The volume makes extensive use of archival records to describe the working and personal lives of women under indenture.
The book demonstrates the key contribution of women to the economies and societies where they settled and provides important insights into their struggles to overcome discrimination and inequality both in their personal relationships with male partners and families and vis-a-vis the colonial state.
Pink Pigeon Press is pleased to offer a 'group academic price' for our forthcoming and reprinted publications which are aimed at the student market.
Currently, 'Women & Indenture' is on offer  at a price of $30 to course teachers for distribution to classes of UP TO 10 students.

To order one PDF format Ebook of Women and Indenture  for £6.49,  CLICK HERE:
After receiving your payment, the PDF format Ebook will be sent to your email address.
An alternative version modified for Amazon Kindle users can be purchased from Amazon:
Please contact us at info@pinkpigeonpress.com if you want to register your library or academic institution for this scheme.