Posted by
admin
on May 24, 2012 in
Bookshop
|
0 comments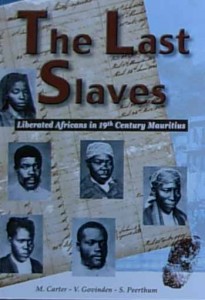 'The Last Slaves': £9.99 plus shipping.  SOLD OUT!!!
During the first half of the 19th century the British abolished first the slave trade and then slavery itself.

Abolition  brought Britain into conflict with other slave-exporting and slave-using nations.  British naval vessels began to patrol areas where it was suspected Africans were being surreptitiously shipped into slavery.

The slaves found on such captured ships were called 'liberated Africans' by the British.
The 'liberated' Africans were usually taken to nearby British colonies where they were apprenticed to employers for long periods. 
They were not, in effect, freed at all, and historians have more recently coined the term 'recaptive Africans' to describe their plight.
Was the policy of confiscating and then apprenticing 'liberated' Africans a failed social experiment of the British authorities?    
Or was it a cynical exercise in labour supply following the abolition of slavery?
This study looks at those who may truly be termed the 'last slaves', and provides an overview of the policy of 'liberating' Africans for employment in Mauritius in the 19th century.
The book reveals that the British certainly had mixed motives and that the policy was a flawed one.
The Africans were either allocated directly as apprentices or indentured labourers to local planters and other employers, or referred, for an initial period, to the Powder Mills Orphan Asylum.
The working, family and social lives of the 'recaptives' are described in the volume and the factors which contributed to their integration into the wider Creole community are discussed.
The authors note that despite the wealth of documentation, these last Africans slaves have been all but forgotten and hope that the book will serve as an 'aide-mémoire' for Mauritians.
To date no volume has been published which has been devoted to this subject in Mauritius.
This book therefore marks a significant step forward in this field, and it is hoped that it will be of much use to teachers and students of history on the island.
'The Last Slaves': £9.99 plus shipping.
HARD COPY SOLD OUT; new edition will be available soon. Contact us to reserve a copy